Heaven
A few years ago, just after I moved to Sweden, a movie came out that sounded extremely interesting. I was told about said movie by the slightly psychotic girlfriend of a friend of mine (she told me one evening that she could kill any woman that she saw talking to her boyfriend. Thereafter, I have never been in the same room as said friend without a few armed guards, a notary, and a master of Tae Kwon Do. Oh, and my therapist-don't leave home without one.)
Anyway, the film was a Japanese film about heaven, and the definition of eternity.
Now, I didn't go see this film as it was in Japanese and subtitled in Swedish. Seeing as how my Swedish was limited to me butchering phrases that could suffice in a grocery store environment, and my Japanese is limited to counting from 1 to 5 and saying hello and goodbye, I didn't think I would get much out of this film. It would be me there, giving in and talking for the characters (which I tend to do if I am bored, drunk, or hate the film), much like Mystery Science Theatre 3000. Minus the androids. And probably less funny.
The premise of the film, however, has stuck with me, and I think I am going to track it down now, seeing as my Swedish and I get along fine now. The film story is basically this: when you die, you get to choose your own version of heaven, your own moment to re-live forever. Now, the Kanji symbol for heaven actually translates to "a moment of pure and perfect happiness". It looks like this: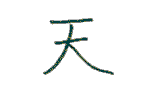 And I should know-it's tattooed on my left shoulder. It's one of two Japanese symbols that I have tattooed-the other one is on my right ankle, the symbol for "eternity and endurance" (aka: "my drunk in college escapade").
The film chronicled the lives of several people who had died, and one story, in particular, got me-a young girl died, and she was asked to choose her moment of pure and perfect happiness. At first, she chose to re-live an exciting roller coaster ride she had at Disneyland. But when they (whoever "they" were) showed her a film of her life, they impressed upon her that this was forever, and she instead chose a moment as an infant, nestled in her mother's arms, nursing and being looked down at by her mother with an expression of rapturous love.
Ever since that film, I have wondered what I would choose if I died and got to choose my moment of happiness. I am not trying to wander into the macabre here-it's simply an interesting thought, and one which lets me float through my happy memories (and contrary to what it looks like in my blog, I do have them).
Like the movie "Solaris" (in which my mate Jim and I broke down and did our own voice-overs for the film, it was so madly boring and we were so madly inebriated), there is an alternate version of heaven. One in which people can go back and be with people they lost.
I thought long and hard about whether I would want to head into eternity and choose to be with Kim (for those of you who are a bit new here, you can find the story of him here). But the truth is, I am slowly coming to the conclusion that I have let him go. We had our time together, we are not going to spend our lives together, and we are not going to die together, and that's ok now.
I had someone I know tell me that it's her wish to die in her husband's arms. I can't think of anything more horrifying, personally. Why condemn the one you love to remembering the last, impotent moment when they watched the life float out of you? They will spend the last years of their life knowing that there was nothing they could do to keep you here, on this earth, with them.
Sorry. When I die, I want to die alone.
Anyway, I have been cataloguing happy moments in my life, and wondering if-should I die tomorrow and be exposed to the Japanese version of heaven (Hey! It could happen!) what memory I would choose to re-live.
Some of which came to mind:
- When I was a little girl, I used to sit in a crabapple tree and read books for hours. I climbed to the very top and would pick crabapples, muching them slowly, and read while the warm summer breeze rocked the branches.
- I sat alone on the beach once, and watched a sunset over Bali, the orange spilling onto a temple and chasing the shadows off of every single curve of the steeple, and felt so calm and at peace.
- Swimming in warm water, my snorkel in place and my body free in the ocean in Belize, and playing with a manta ray. We played tag for a long time, and I spent ages petting its odd, under-sided smiling face. Or when I was swimming in the Seychelles, I was circled by a ring of zebra fish, playing circling me and then waiting for me to follow them.
- In Stockholm on a cold and snowy night years ago, the painful image of a man, crying, as we hugged in the street and realized that we were in love and didn't know what to do about it. My forehead pressed against his, I knew that I could never live without him again.
- Some of the evenings I had with Mr. Y-moments of pure dizzy perfection, champagne, naked talks, touching, sharing, loving, reaching out my heart to someone and finding someone there to take it, and then falling asleep, his face curled into the back of my neck, his knees tucked up behind me, the warm presence of him making the world seem that all was right.
And anytime I think about it, what image I would choose, I get calm and warm. I still don't know what image I would choose, what memory to linger in, but I know that there is one central character to my forever, and it is with him that I would choose to relive eternity with.
What would you choose?
-H.
Posted by Everydaystranger at November 11, 2003 09:11 AM | TrackBack