« Eject and Reject | Main | Luuka List »
January 29, 2004
Hello...My Name Is Luuka...
...I live on the second floor (sing it with me, now!)
Since our beloved Luuk has fallen (last he was heard from was end of December with his host Jean, and neither of them have been heard from since-Jean, I really hope you're ok sweetheart), allow me to introduce you to Luuka.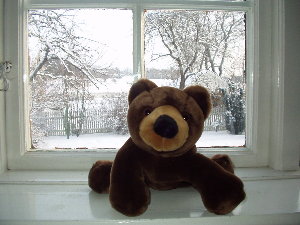 Luuka is Luuk's little sister (thanks, Tiffani!) She is a native Swede (which means she likes to drink and knows all the words to the Abba songs).
We hung out and bonded a bit in the snowy Swedish wintertime (which meant we drank coffee and watched a DVD together).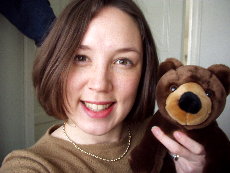 Luuka is now off to Simon, and then will be making her way amongst the blog readers, who take pics of her and post them on their sites (or mine, if they do not blog). My goal is to link a seperate Luuka page to my site, but right now my current pc sucks a clown's ass, so that will have to wait. Luuka has a little travel journal going off with her-just sign it, leave her a message, a train ticket stub, whatever to help her remember where she's been.
Let's work it thus: I have a list here, and we will have this be the "shipping to" list. If the timing is bad or whatever, we can move names around. But otherwise, this is the order in which the little Luuka sees the world. If she sees a town more than once, that's totally OK, and in fact great! It's about perspective-what is it that makes your town great for you?
That, and the bear is just so damn cute that of course people want to host her...
OK, I am starting over with the list, since so many people have come and gone from my site. So if you want her, then let me know-just leave a message with your name and city in the comments, and we proceed from there! I will start with the first two names that I am sure of. We used to have a long list ready to host Luuk, but now we have Luuka, so let's start over, yes? I know in my last post Meg, Miguel and Guinness all indicated that they were ready for her, so let's start afresh-again, if you want Luuka, comment below leaving your name and city, and she will be shipped in the order of the comments. And I am going to leave it to you guys to arrange-contact the name before you and have a dialog, ti send addresses and whatnot.
The "to" list:
Simon in Hong Kong.
Brass in Colorado (Brass, email Simon with your address!)-I know you were so keen to have some time with Luuk in January, is February ok? You promised to teach Luuk snowboarding, now let's have Luuka kick some ass!

And now, if you will excuse me, I am still throwing my guts up. It it -4, snowing like a maniac, and yesterday I had an "incident"-my body woke me up, the way only a body does, needing to throw up. I leaned over the land it in the very clean and ready-to-go bucket that Partner Unit thoughtfully placed next to the bed for me, but realized in horror that curled in the bottom of the bucket was one of my precious kitties.
I just couldn't throw up on her! So I dashed out of bed, ran to the bathroom...and hurled all over the bathroom floor.
Last time I checked that damn cat was still sleeping in the bucket.
-H.

PS-I need some assistance, too-a friend of mine is taking his children to Florida for vacation, and has 3 days to spend in the Miami area. Any ideas on fun things to do with two childre (ages 6 and 11) in that area for 3 days? Thanks!

Posted by Everydaystranger at January 29, 2004 12:32 PM .

Luuka is in da house!
Excerpt: Hot Swedish babe alert! If you don't hear from me in three days, send more vodka. Pictures and wild stories coming up... now where did I leave that number to the bail bondsman......
Weblog: Rocket Jones
Tracked: November 23, 2004 01:20 AM